Organic farmer interest in on-farm plant breeding has been on the rise due to a lack of available germplasm adapted to organic systems, a growing awareness of the value of regionally adapted varieties, and consolidations in the seed industry that have led to a decline in varietal offerings. Organic participatory plant breeding (PPB) is a decentralized model in which organic farmer-breeders work in collaboration with university, nonprofit and private industry plant breeders to improve plant genetics for organic systems. This approach can supply organic producers and processors with the crops and desired traits that they need.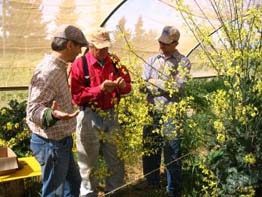 Refining a breeding population is an essential step in conducting successful on-farm breeding, and the purpose of this one-year project was to make steps to improve breeding populations within longer-term PPB projects to create sub-populations for subsequent breeding activities. The Organic Seed Alliance (OSA) will work with four organic farmers and three professional plant breeders to refine organic breeding populations in three crops: a curly red kale, an early maturing broccoli, and a sugary enhanced sweet corn.
The primary project objective was to refine three populations through mass selection, single plant selections, and progeny selection to create sub-populations for subsequent breeding activities. The goal of supporting these first formative years of breeding efforts was to refine the breeding methods, ensure sustained commitment to the projects, and seek additional long-term funding for this work.