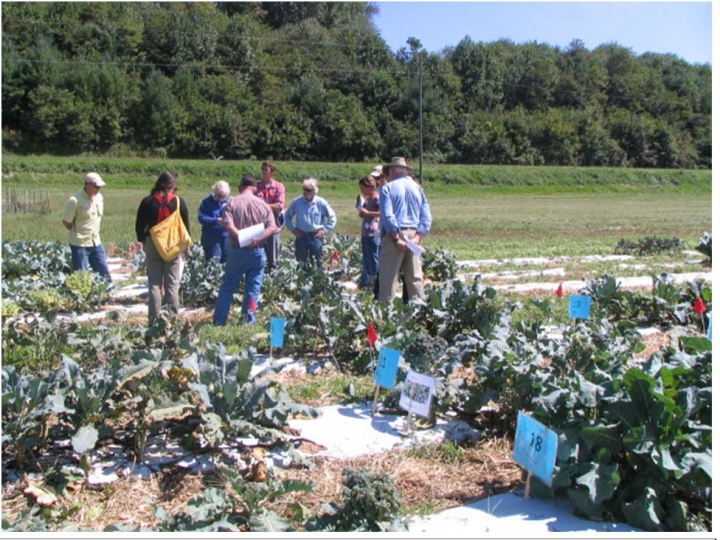 There is high demand for organic broccoli in the Southeast, as shown in a 2013 market survey by Carolina Farm Stewardship Association, which revealed that broccoli is one of the top organic produce items in short supply. Broccoli can be produced most anywhere in the spring and fall, but summer production is limited to cooler growing areas. Western North Carolina provides this type of climate due to elevation, and farmers there are in a unique position to grow broccoli throughout the summer months when it is too hot to produce it in most other areas of the Southeast. Organic farmers report that variety selection is a high research priority to ensure their success.
The 2012 and 2013 participatory broccoli variety trials, funded by OFRF, in partnership with the Clif Bar Family Foundation's Seed Matters initiative, successfully involved farmers in variety selection, testing, and evaluation. The trials, which included standard broccoli for crown cut production and unusual broccoli types, were conducted in an organic unit on a research station. This provided a strong foundation to move the top performing varieties to on-farm trials.
This phase of this project will take the participatory variety trials from the mother trial stage conducted on the research station to the baby trial stage conducted on participating farms. Three trials will be established on organic farms to test the top five performing varieties from the 2012 and 2013 research station trials of over 30 varieties. A trial will also be included on the research station for consistency with the previous years and comparison to the on-farm trials. Farmers will be encouraged to use the summer production system developed over the past two years, which includes farmscaping, row covers, and white-on-black mulch.
Results from these on-farm baby trials will confirm the best broccoli varieties suited for summer production in Western North Carolina. Growers will have access to better information on which varieties are most heat tolerant, best suited for high stress seasons, and have the best flavor, side-shoot production, yield, and insect and disease resistance. The project will also continue to develop a systems method for organic farming research. A workshop and field day will be held so other organic farmers, student interns, gardeners, agricultural educators, extension agents, and others can benefit from the project. Information will also be presented at a multi-state Sustainable Agriculture Conference.