Summary
Project title: Organic Farm Performance in Minnesota Report
Coordinator: Meg Moynihan, Minnesota Dept. of Agriculture, Minneapolis, Minnesota
Stakeholder location: Minnesota and greater U.S.
Although the adoption of organic farming practices continues to grow at a great rate (estimated at 41% between 2005 and 2009 in Minnesota, according to data collected by the Minnesota Dept. of Agriculture), assumptions and assertions, both positive and negative, about the profitability of organic farming persist. Real-world, farm-level data about organic farm performance are still scarce.
Several years ago, a group of partners led by the Minnesota Department of Agriculture recognized that multiple audiences would benefit from access to data about organic farm performance: organic producers who want to assess their enterprise performance and benchmark against similar farms; conventional farmers who can use the information as they consider whether to convert to organic; lenders who need data to evaluate loan requests; agencies, organizational leaders, elected officials and their staff members who can use the information as they craft programs that address organic farmers' experiences and needs.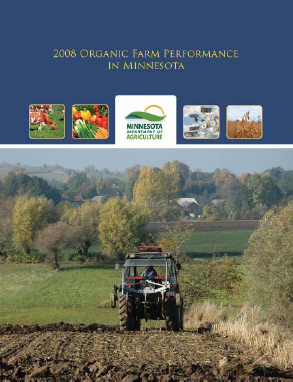 This project contributed to better understanding of the real-world productivity and financial performance of nearly 75 fully organic and split-production farms in Minnesota. Two publications, the 36-page 2007 Organic Farm Performance in Minnesota and the 52-page 2008 Organic Farm Performance in Minnesota, delivered organic farm performance data into the hands of thousands of other interested farmers, researchers, lenders, and other agency and organization decision makers across the country who are interested in learning more about the economics of organic farming.
The reports were developed from information gathered as part of a larger project funded by USDA Risk Management Agency. It involved modifying financial analysis software for organic enterprises and recruiting and enrolling farmers to work with farm business management instructors in Minnesota's Farm Business Management (FBM) program.
FBM instructors submitted organic farm production and economic data collected during the business courses to the University of Minnesota Center for Farm Financial Management (CFFM) where it was checked for errors, stripped of identifying characteristics, and incorporated into a 2,000 farm database called FINBIN.
Project Manager Meg Moynihan and project partners Dale Nordquist and Ron Dvergsten discussed and determined what kinds of whole farm and enterprise-level financial tables to include in the publication. The CFFM produced the data tables and Dale wrote an introduction/overview. Ron provided information about financial measures that were included in the publication to help users benchmark their own farm information.
The report includes 25 tables containing whole farm and crop and dairy enterprise analyses for organic producers and some comparisons to conventional farms.  Data were provided by 45 fully organic farms and 20 farms using both organic and conventional management (split-production farms) for a total of 65 operations.
More than 1,000 print copies of the organic farm performance reports were distributed, thousands more have been viewed and downloaded from the web, and outreach and educational efforts at meetings and conferences broadened the project's impact.
Ed. Note: The Minnesota Department of Agriculture has continued this project beyond 2008 and development of additional years' organic farm data is underway.