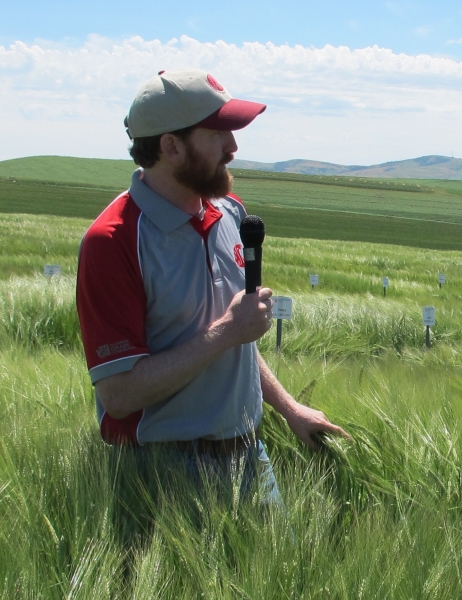 Researchers from Washington State University have been breeding and selecting hulless food barley types for almost a decade with the goal of releasing high yielding, nutritious barley varieties in this novel market class.  Now in the final stages of this project, they will work to identify the advanced breeding lines most adapted to organic farmers in Washington State and Northern Idaho.  In addition, the researchers propose to develop a truly comprehensive nutritional evaluation and a flavor profile of these elite lines. Hulless spring barley will be grown on three organic farms; two in Washington State and one in Idaho.  Barley has natural nutritional advantages over other small grains as a source of human food, and researchers will measure variation in the nutritional composition of the harvested grain. Four broad categories of nutritional molecules will be analyzed: tocols, phenols, beta-glucans (β-glucans), and mineral nutrients. World renowned chef collaborators, including White House Executive Pastry Chef  Bill Yosses, and Dan Barber, executive chef and co-owner of Blue Hill Restaurant in New York,  will lead a team of pastry chefs to test flour from our different barley lines in diverse food products for both performance and flavor.
Barley, which is an important grain crop, is used predominantly for animal feed and malting, but is also an important part of human diets. Barley provides a number of health and nutrition benefits, including beta-glucans, which have been shown to contribute to the maintenance of normal blood cholesterol concentrations. This led the U. S. Food and Drug Administration (FDA) to allow barley to be labeled as a heart-healthy food that reduces the risk of coronary heart disease. However, most of the barley that is grown domestically for human food comes from hulled feed barley varieties. It is then dehulled during pearling, a process that removes the nutritionally rich bran, which contains tocols, phenols, mineral nutrients, and other beneficial compounds. These varieties also generally contain much lower beta-glucan contents. Developing nutritionally dense and hulless varieties will eliminate the need for the aggressive (and not inexpensive) process of dehulling/pearling, and will maximize the tremendous potential nutritional benefits of barley.
The trials will be planted in the spring of 2014 at the WSU Organic Farm in Pullman Washington, Finnriver Farm in Chimacum, Washington, and Harvest Ridge Farm in Clarkston, Idaho. Farmer collaborators at all locations will participate in selection and help identify best management practices respective to each location. Researchers will perform nutritional analyses at the main WSU campus in Pullman, Washington. Chef collaborators will evaluate lines for performance and taste at their kitchens in San Francisco, Washington D.C., and New York. The team will distribute project information through field days at all trial locations, and through a diverse range of outlets including farmer-targeted print publications and web-based media. Ultimately this project proposes the release in the near future of one or more hulless food barley varieties that exhibit optimal nutritional quality, taste, food quality, and yield in organic systems.