Summary
Project location: Central and north coast of California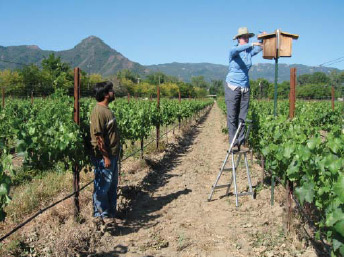 During the past decade, an increasing number of winegrape growers in California's North Coast have placed songbird nest boxes in their vineyards, primarily to help conserve cavity-nesting bird species. However, no studies have systematically analyzed the role of these cavity-nesting birds in suppressing vineyard pests such as leafhoppers, sharpshooters, and moths.
The objective of this study was to test whether biocontrol of moth, leafhopper and sharpshooter pests is enhanced through conservation of insect-eating birds via the establishment of songbird nest boxes.
This project is informed by previous research and theoretical ecology. Avian biocontrol was a strong area of study within the USDA from 1885 to 1940 before the advent of chemical materials for pest control. During that period, a division of the Bureau of Biological Survey (part of the USDA) called Economic Ornithology was devoted to researching avian biocontrol. Stomach-content analyses, mostly from the early 1900s, indicate that birds may consume key vineyard pest species.
Two certified organic vineyards chosen for this experiment were located in Mendocino County, California, in Hopland and near Ukiah. Both were planted between 1985 and 1988 and managed identically by the same manager, David Koball, of Fetzer Vineyards. Chardonnay grapevines are grown on trellises forming rows. Tilling occurred in every other tractor row, alternating with cultivated cover crops that were 97% clover and 3% Queen Anne's Lace
David Koball was consulted so that vineyard experiments did not interfere with daily management practices. Nest boxes were erected in January and February 2008, and placed back-to-back in pairs within nest box treatments to maximize bird densities. Nest boxes were constructed from redwood following recommendations of the North American Bluebird Society.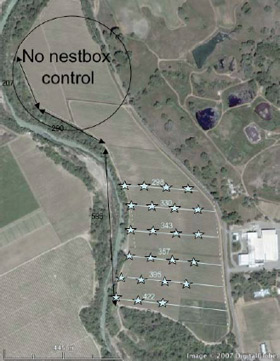 Each vineyard was divided in half such that a nest box treatment and control treatment were randomly assigned and located at least 250 m from each other.
At each nest box treatment site, 23 to 24 nest box pairs were established in a grid pattern in 5 to 6 rows. All boxes were cleaned of previous nesting materials in February 2009 and checked weekly for breeding activity from March through July. Once bluebird nests were found to contain eggs, predator guards made of wire mesh hardware cloth were attached to the outside of the boxes. Nest boxes were monitored weekly to assess bluebird reproductive activity.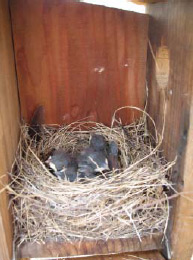 Bird observations of nest box and control treatments were conducted every other week from mid-April through mid-July 2009, between 6:00 am and 10:30 am on days without rain. Observations and species identification were made from a camouflaged ground hunting blind located approximately 10 – 20 m from the entrance hole of occupied bluebird nest boxes. Observations were replicated at five randomly selected points in no-nest box control areas of vineyards.
The 2008 breeding season began four months after the nestboxes were placed in the vineyards. Three bird species were the predominant occupants of the nestboxes: Western Bluebirds, 36.8%, Tree Swallows and Violet-green Swallows, representing 17.8% combined. In 2009, vineyard experiments focused primarily on the territorial Western Bluebirds which forage by perching in low vegetation and strike arthropods on the ground, air, or vegetation.
To evaluate predation activity, larvae of beet armyworm, a vineyard moth pest, were purchased and used in experiments that mimicked a pest outbreak at each vineyard site in June 2009. Larvae were placed in transects containing five individuals pinned to cardboard squares staked to the ground in vineyard tractor rows. Transects were established at 15 locations: adjacent to five active bluebird nest boxes, at five randomly selected points in the nest box treatment, and at five randomly selected vineyard control points. Larvae were set out before 7:00 am and recollected about six hours later the same day and were recorded as either present (dead from sun exposure) or missing, signifying consumption from natural enemies strong enough to remove prey from pins--most likely birds.